Photolog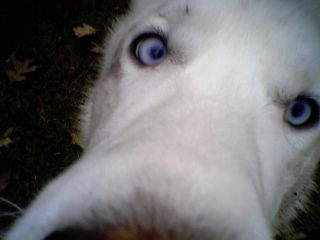 The Great White Squirrel Hunter attacking the cameraphone...
Check it out people! I finally figured out how to post a photo on this weblog. Granted, I'm sure you would rather see a better photo than a closeup of my dog's nose, but this is what you're getting. Life isn't fair, deal with it. For some reason, Loki is obsessed with my phone. Whenever I'm on the phone, he just goes crazy. Not Swiffer crazy, but crazy, nonetheless.
Not much for news here, sorry. I'm just trying to get my life in order after going on vacation. And by "getting my life in order", I mean spending way too much money on my dog buying him treats and toys to kill the guilt I have over leaving him with the dogsitter for a week. He was in excellent hands, but he still hardly ate the whole week I was gone. He's such a daddy's boy that it's rediculous.
Oh yeah, and to add insult to injury, I had to Swiffer the floors this weekend. The poor guy totally freaked out...